20 - 25 FEB 2024

Changi Exhibition Centre, Singapore
Home
MICE in a time of Covid-19, and beyond
MICE in a time of Covid-19, and beyond


MICE in a time of Covid-19, and beyond
SHOW NEWS
| 11
MARCH 2022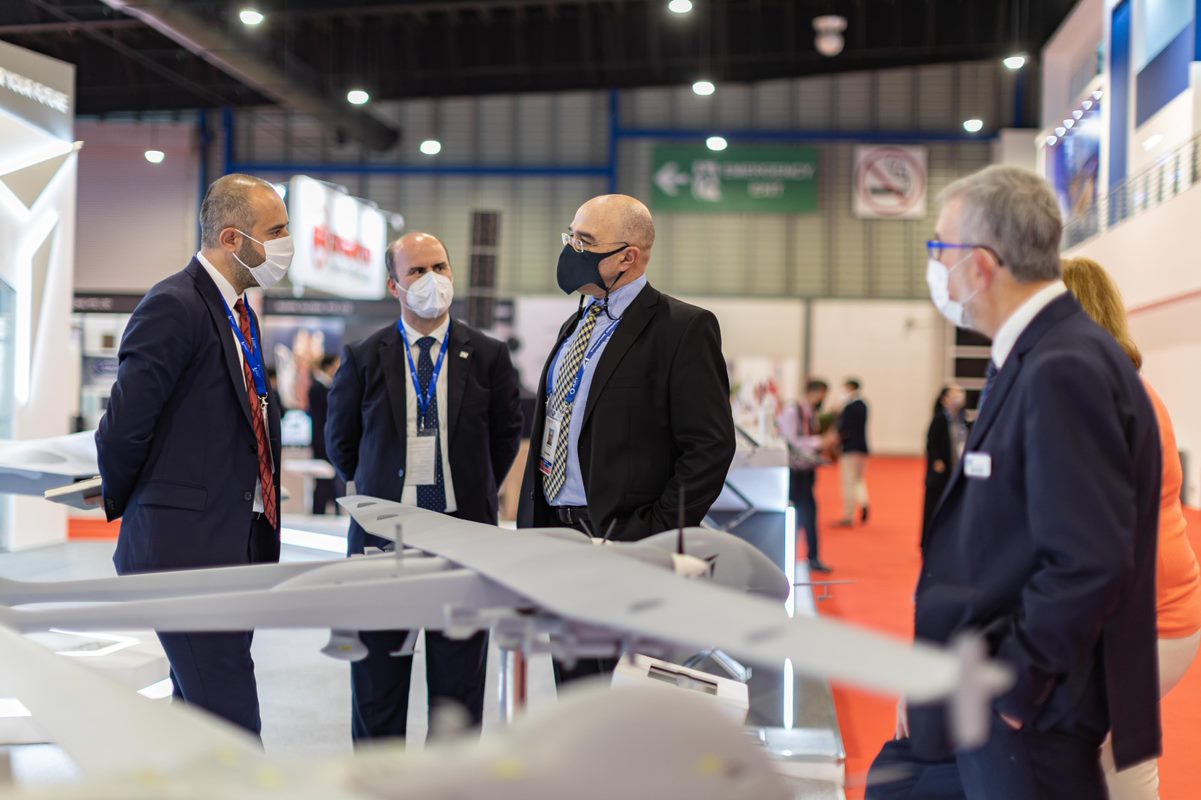 WHEN aviation's finest and biggest- from Airbus to Thales - convened on a Red Dot in the time of a global pandemic, the world watched. They watched as intently as they did two years earlier when Singapore Airshow 2020 was held while the then relatively unfamiliar Covid-19 ravaged our world, and one after another, countries implemented travel curbs and closed borders.
In February this year, Singapore hosted Singapore Airshow 2022, its first large-scale international trade event. Held amidst an evolving pandemic, it was naturally scaled down. International travel is still restricted, and there were rigorous safe-management measures to adhere to for the health and well-being of the exhibitors, visitors, vendors and staff. Yet, the event still stayed true to its mission to bring the aerospace and defence industry together for strategic conversations, renew ties, make new contacts, and to exchange ideas on developments in innovation and sustainability.
MICE - ENGINE OF COMMERCE
Trade shows and exhibitions are a crucial engine of commerce. They are a primary way for manufacturers and buyers to connect, and for industry associates to make connections and share news. Such events are a huge business. The global events industry market was valued at some US$887 billion in 2020 and is projected to cross US$2,194 billion by 2028.
Worth some US$2.5 billion in 2018, the MICE industry makes up a significant portion of Singapore's economy. The value is expected to more than double to US$5.2 billion over the next five years.
After declining by 15 per cent from 2019 to 2020 worldwide, MICE activity is already on the rebound. The Singapore Association of Convention & Exhibition Organisers & Suppliers (SACEOS) predicted in December that MICE would return to its pre-pandemic level by 2023, citing high-profile conferences in late-2021 such as the Singapore Fintech Festival and Singapore International Agri-Food Week. The Singapore government has predicted a 121 per cent rise in exhibitions industry revenue growth in Asia from 2020 to 2021.
THE CASE FOR HYBRID
But the pandemic has transformed the nature of these events. The past two years saw the rise of remote networking technologies that have led to the emergence of virtual and hybrid events that blend online participation with in-person attendance. This flexibility allowed the MICE industry to resuscitate itself even as cities and countries locked down to battle Covid-19.
Done right, such hybrid events can expand a trade show's reach and impact, even in a future where lockdowns and strict travel controls pose less of a disruptive threat.
Hybrid shows should follow a few best practices. Virtual attendees must have ample networking opportunities, they need to be able to attend presentations via livestreams and participate via digital engagement. But there remains an important need for in-person connections to fully reap the rewards of MICE events.
VALUE OF IN-PERSON BUSINESS ACTIVITIES
While online components are a great way to expand access and create more flexible events, in-person attendance cannot be done away with altogether. What we heard repeatedly at the airshow was that exhibitors and trade attendees are tired of virtual events. They want to meet each other in person, see business partners in the eye, and fist bump one another when partnerships are struck and deals are signed.
For trade shows and exhibitions that focus on precision hardware and high-value components, buyers and sellers rely on being able to demonstrate and observe wares in person. One usually wouldn't buy a car without test-driving it, let alone consider a plane or ship without seeing it in action. This was evident at Singapore Airshow 2022, and I believe will be the case when International Maritime Defence Expo (IMDEX) Asia, Asia's leading naval and maritime defence show, is in town from 25-27 Apr 2023.
As with any trade show or conference, networking opportunities are crucial. While it is not hard to create virtual social events, the ease and serendipity that come with real-life networking are difficult to replicate. However, organisers will need to balance the health and safety of event attendees with ensuring a fruitful and meaningful experience. For example, at the Singapore Airshow this year, we instituted stringent testing requirements to ensure attendees are screened before physically entering the event site. All attendees must also be fully vaccinated. While a nice glass of champagne to celebrate inked deals was de rigueur pre-pandemic, today we impose restrictions around where food and beverages can be consumed to ensure utmost safety for all.
THE PATH FORWARD
Uncertainty will loom large in the MICE industry today and in the near future. Yet, the sea change taking place in the industry today will have benefits beyond safety and access as we continue to explore how to unlock the potential of digital technology to enhance the user experience while promoting business and boosting the economy.
Perhaps the trade shows of the future will take place partially in the metaverse, or with human-like robotic presenters demonstrating wares on behalf of companies thousands of miles away. These futuristic possibilities may be closer than we think. After all, flight too was only an idea before Orville Wright piloted the Wright Flyer across the North Carolina dunes in 1903.
While future trade shows will look different from those of the past, they will nonetheless bring the same or greater economic impact if organisers work carefully to ensure engagement and relevance.
The writer is managing director of Experia.
This article was first published in The Business Times on 10 March 2022.