20 - 25 FEB 2024

Changi Exhibition Centre, Singapore
Home
Japan orders additional MCH-101 helicopters
27 Jul 2023
Japan orders additional MCH-101 helicopters
INDUSTRY 360°
| 17 June 2023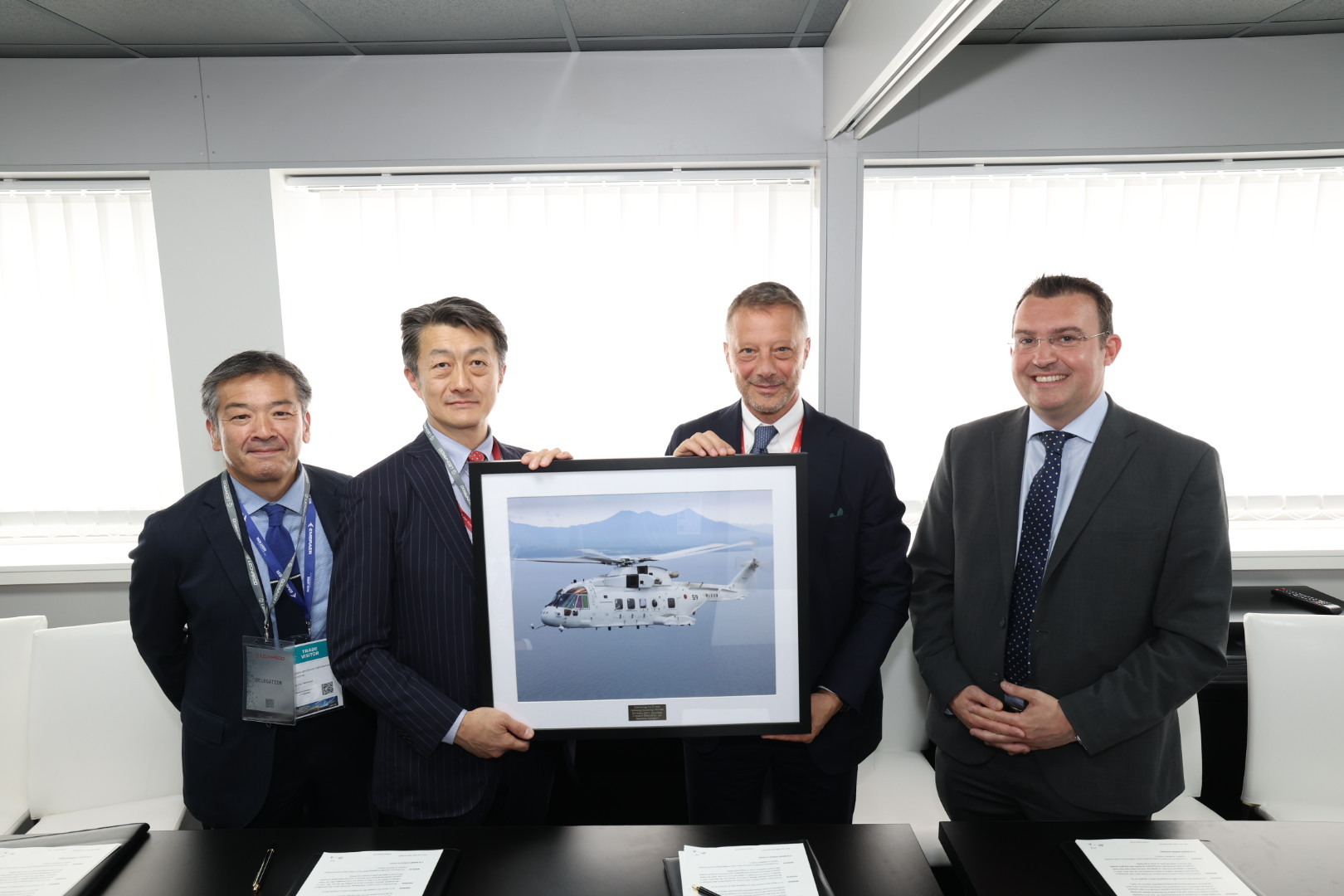 Leonardo | On 20 June, Japan ordered additional MCH-101 helicopters for the Maritime Self-Defense Force

Leonardo announced on 20 June that the Japan Maritime Self-Defense Force (JMSDF) had signed a contract for additional MCH-101 helicopters, and that the force would upgrade its existing fleet.
The triple-engine MCH-101 is the Japanese designation for the AW101, which is licence-built by Kawasaki Heavy Industries (KHI) in Japan.
Leonardo's press release did not state how many new MCH-101s had been sold. However, the MoD's 2023 edition of Defense Programs and Budget of Japan mentioned that two MCH-101 helicopters, amidst an overall programme price tag of JPY35.1 billion ($249.2 million), would be procured.
This number of aircraft should accurately reflect the new contract, as the Japanese MoD does not usually deviate from these annually listed programmes.
Gian Piero Cutillo, MD of Leonardo Helicopters, commented: 'It emphasises the AW101's important role in Japan's defence, as well as the outstanding capabilities it delivers among operators worldwide.'
Last year, a single MCH-101 was procured for the airborne mine countermeasures (AMCM) role. This had been listed in the Defense of Japan 2022 document with a budget listed of JPY7.3 billion ($53.4 million).
Prior to this, the JMSDF had 13 AW101 aircraft – ten MCH-101 operating in the mine countermeasures role and three CH-101 as transports for Antarctic research activities – and these will undergo a newly announced midlife upgrade.
The upgrade was launched this year, and will 'see a batch of aircraft updated to the latest avionics configuration… aligned to the new helicopters' configuration and enabling the enhancement of the JMSDF's operational effectiveness'.
Kenya Takaha, executive senior general manager, marketing division Aerospace System Company at KHI, added: 'Japan, the UK and Italy all have this excellent platform. We anticipate that there may be common operational requirements in each country, and the introduction of common equipment on the platform can effectively contribute to strengthening the defence capabilities of each country.'
Leonardo, KHI and Marubeni Aerospace Corporation are celebrating 20 years of partnership. KHI acts as prime contractor, while Marubeni is Leonardo's distributor in Japan, and providing spares, ground support equipment and services for the MCH-101s.
The first MCH-101 was delivered to the JMSDF on 24 May 2006, while the first AMCM-configured unit was handed over in 2015 and began operating the following year. The AMCM's mission management system is developed by Japan, while the heart of its suite is the AN/AQS-24A high-speed airborne mine hunting system.
In 2021, the JMSDF achieved 25,000 flight hours with its AW101 fleet.
This Japanese order is important for Leonardo's Yeovil-based facility, which has struggled to obtain new AW101 orders in recent years. However, Poland is reportedly keen on purchasing 22 AW101s for tactical transportation.
The MCH-101 lost out to the SH-60L in a competition where the JMSDF was seeking a new naval helicopter to begin replacing the in-service SH-60J/K. A total of JPY60.3 billion was set aside for six SH-60Ls in the FY2023 budget.
By using performance-based logistics for MCH-101 maintenance, the JMSDF hopes to save JPY4.8 billion.
Elsewhere, the Japan Ground Self-Defense Force has inducted six UH-2 helicopters to date. This followed a JPY14.3 billion ($131.6 million) contract placed with Subaru Corporation in March 2020.
The JGSDF ultimately requires 150 of these helicopters (including 77 in the coming five years), with the project having kicked off in FY2015. Subaru plans to deliver another seven UH-2s in FY2023, and 13 in FY2025 as production ramps up.
At the recent LIMA 2023 exhibition in Malaysia, Subaru was marketing the twin-engine UH-2 to potential customers. This indicates a desire to export this military version of the Bell 412EPX.
By: Gordon Arthur / Christchurch
Article | Shephard Media