20 - 25 FEB 2024

Changi Exhibition Centre, Singapore
Home
Asia's phenomenal growth story – How will it continue?
Asia's phenomenal growth story – How will it continue?
INDUSTRY 360°

| 01 NOVEMBER 2019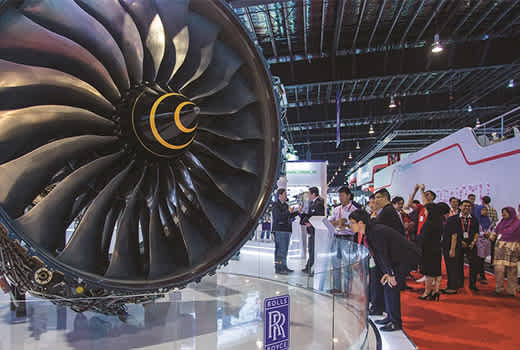 Asia's aerospace market has had a phenomenal growth story. Over the past two decades, Asia's Air Transport fleet has nearly quadrupled, from 2,600 aircraft to almost 10,000 aircraft. With 30 percent of the aircraft fleet, Asia has surpassed North America and Europe as the world's largest aviation region. Over the future decade, 40% of aircraft deliveries are expected to go to Asia.
AeroDynamic Advisory's 2018 sizing of the global aerospace industry saw Asia representing 16 percent of aerospace activity, showing that the rise in aviation has been followed by growth in aerospace activity.
Key driver to Asia's growth
Most of the growth has been in MRO. Singapore has become a key global hub for MRO, distribution and customer support. The spinoff of Singapore Airlines Engineering company (SIAEC) in the 1990s, its subsequent 20+ joint ventures with OEMs who needed to establish regional service centers, is a key part in this, as is the rise of ST Aerospace.
Similarly, China has developed a vibrant MRO sector. The subsidiaries of its major airlines have become leading global aircraft MRO providers, and numerous OEMs have invested locally to better serve the region, resulting in some world-class MRO facilities. China's drive for self-sufficiency will continue to broaden and deepen the in-country MRO facilities.
Other players are also emerging as MRO cluster candidates to keep up with the demand growth. Evolving growth strategies
Within manufacturing, many investments went to Asia as the supply chain globalized in the 2000s - Japanese suppliers got significant roles on the 787, and dozens of aircraft, engine or component OEMs established their manufacturing presence and final assembly lines in the region.
Asia has and will continue to grow its role in the aerospace supply chain, as there is a drive among OEMs to improve productivity, remain close to the region's customers, and access talent on a global basis. However, the past decade has brought changes in OEM supply chain strategies that will create challenges for the region's stakeholders.
Low cost labor is becoming less important as a focus shift from technology innovation to process innovation is resulting in lower labor content.


Regional supply chains are developing, as prime OEMs have greater preference for component manufacturing coming closer to their production line.


Geopolitics is playing a greater role thanks to increasing tariffs and a stronger focus on IP protection.


OEMs are pursuing selective vertical integration and increasingly seek to control the design and intellectual property of a system, while outsourcing component production.
Given these trends, Asian stakeholders may need to refine their aerospace manufacturing growth strategies. Asia as a region has a palette of strengths to build on, including an increasingly developed industrial sector, superb infrastructure, a growing educated workforce, and world-class position in selected technologies (artificial intelligence, etc). It will also be the largest market for commercial aerospace for the foreseeable future. Ultimately, well-coordinated national strategies such as the ones that drew investments in the first place, may be the key to attracting more aerospace activity in the future.
By: Jonas Murby,
Principal