20 - 25 FEB 2024

Changi Exhibition Centre, Singapore
Home
Home
>
Top Reads
> Singapore Airshow 2020 is outstanding business event at Singapore Tourism Awards 2021 
Singapore Airshow 2020 is outstanding business event at Singapore Tourism Awards 2021 
Singapore Airshow 2020 is outstanding business event at Singapore Tourism Awards 2021
SHOW NEWS | 23 JULY 2021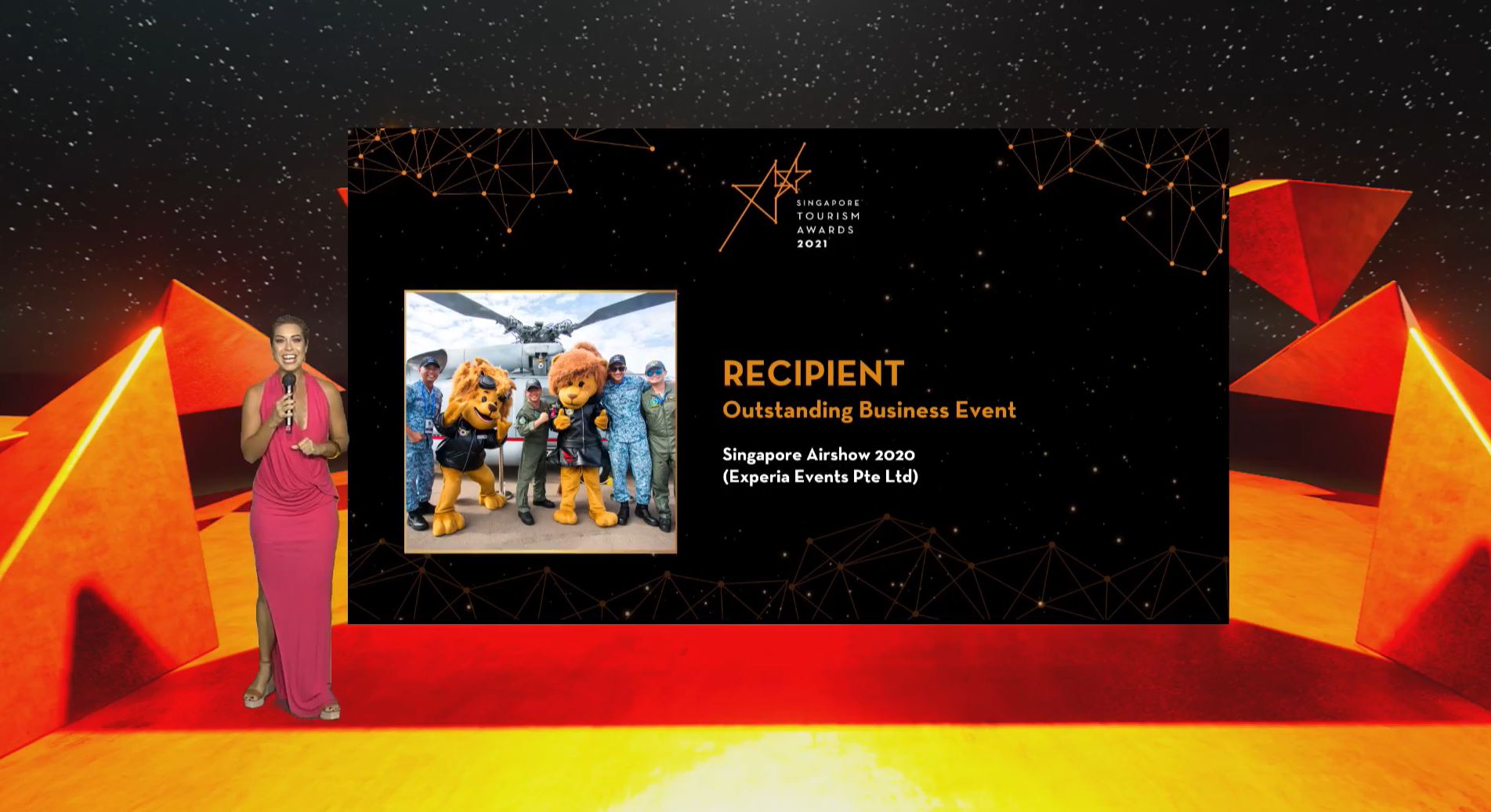 Photo credit:
Singapore Tourism Awards 2021
We are pleased to announce that Experia, organiser of Singapore Airshow 2020, was awarded Outstanding Business Event for its show at the Singapore Tourism Awards 2021* held on 23 July 2021.
A key international trade event for the global aerospace and defence industries with high public visibility, Singapore Airshow 2020 took place during a wave of uncertainty in the early days of the COVID-19 pandemic. Event organiser Experia pulled out all the stops to ensure highest levels of safety for our attendees and staff.
Despite the escalating global health crisis, over 90% of exhibitors from more than 45 countries who had signed up prior continued to participate in Singapore Airshow 2020. The event welcomed close to 30,000 trade visitors from more than 110 countries and over 20,000 public visitors. A survey conducted by Kadence International also revealed that Singapore Airshow 2020 contributed a significant $202 million to Singapore's economy.
"This award is an acknowledgment of our excellence in creating and organising business events of international repute and strategic interest that spur industry development. It is a showcase of collaboration at its best. Despite an escalating global health crisis, our ecosystem comprising stakeholders, partners and vendors, adapted, overcame and delivered an event that was safe and impactful for all our attendees."
-Mr Leck Chet Lam, Managing Director, Experia Events
*Organised by Singapore Tourism Board, the Singapore Tourism Awards celebrate and recognise individuals and organisations in the tourism sector for delivering outstanding experiences and demonstrating enterprise excellence.