20 - 25 FEB 2024

Changi Exhibition Centre, Singapore
Home
Opinion: Aviation needs a faster path to lower carbon emissions
Opinion: Aviation needs a faster path to lower carbon emissions
SKY OF THE FUTURE | 29 DECEMBER 2022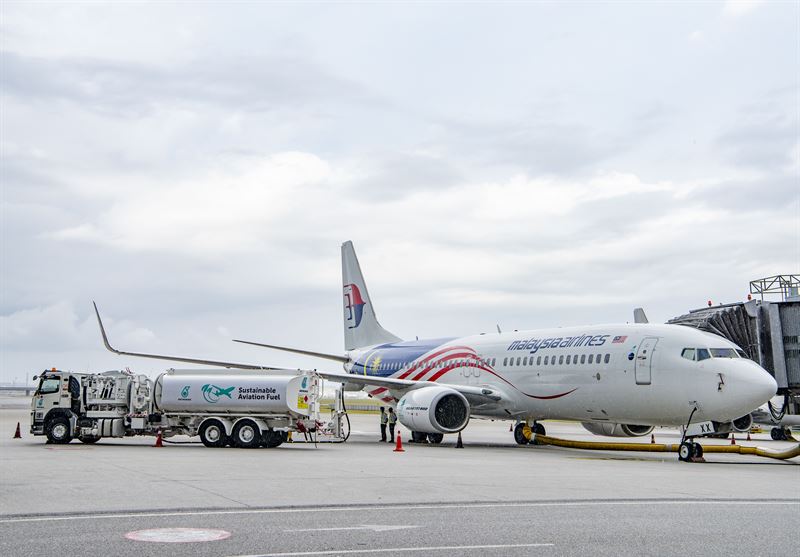 Malaysia Airlines
|
Malaysia Airlines operated a Boeing 737-800 using a blend of conventional jet fuel and Neste's fuel made from renewable waste.
The commercial aviation industry is responsible for around 2.1% of total carbon dioxide emissions and 12% of those from transport overall. In 2009, the air transport sector committed to cutting carbon emissions on a global scale to half of 2005 levels by 2050. And a mere month ago, International Civil Aviation Organization (ICAO) member states adopted a long-term global aspirational goal of net-zero carbon emissions by 2050.
In the long run, the industry is betting on sustainable aviation fuel (SAF), which is chemically very similar to traditional jet fuel but made from biological materials. However, without some technological game changers, SAF's availability and affordability on a large scale will limit its adoption.
SAF currently accounts for only 0.1% of global aviation fuel demand and costs 2-5 times more than conventional jet fuel. While recent experiments have shown that aircraft can safely fly with 100% SAF, it is currently deployed as a drop-in fuel up to a 50% blend and will continue to be blended with traditional jet fuels for decades to come.
Aviation needs a faster way to cut its carbon footprint.
Here is the opportunity for low-carbon aviation fuel (LCAF). LCAF does not require any changes to current handling or fueling procedures or adaptation of aircraft engines. It is the same as conventional jet fuel, but its life-cycle carbon footprint is 10% or more lower.
LCAF appears to be an ideal transitional fuel until more revolutionary solutions can enter the market and scale up. The air transport industry recognizes this fact. LCAF is now proceeding through ICAO approvals, with the final decision on LCAF's sustainability criteria to be made during the 227th Session of the ICAO Council in late November.
The criteria for LCAF acknowledge that not all crude oils are equal. Those that are high in sulfur or whose associated byproduct of natural gas is burned off rather than used productively are more carbon-intensive to extract and refine.
Carbon footprints of crude oil production therefore vary widely from country to country, as Stanford University researchers note in a recent article in Science. They write that the carbon dioxide equivalent per barrel between the best and worst cases worldwide varies from 20 kg (44 lb.) to 180 kg. A barrel of oil releases about 380 kg of carbon dioxide when burned. Differences among individual companies and fields can be even larger. The best performers are some Middle East countries with giant, highly productive fields and environmentally minded nations such as Denmark and Norway.
Oil companies have a wide variety of tools to reduce their carbon footprint: being selective about which fields they develop, stopping flaring and leaking of unwanted gas, improving energy efficiency, powering operations with renewable energy, using low-carbon hydrogen in their refineries and employing carbon capture and storage (CCS) to prevent carbon dioxide from escaping into the atmosphere.
Globally, traditional jet fuel has an average life-cycle carbon intensity of 89 grams (3.3 oz.) of CO2 per megajoule, whereas LCAF certified under the Carbon Offsetting and Reduction Scheme for Aviation (Corsia) must have a carbon intensity of below 80.1 grams of CO2 per megajoule—at least 10% lower.
Current best-in-class operations in production and refining would deliver an average 12% reduction. So LCAF can realistically be available in significant volumes and at only moderate added cost over the next decade. Along with efficiency gains, it can play a major role in meeting the aviation industry's medium-term targets while truly near-zero- emissions options scale up.
Even as SAF production capacity expands over the coming decades, SAF will continue to be blended with traditional jet fuel in volumes of up to 90% or more. Such a SAF blend with average jet fuel would lower life-cycle emissions by 10%, but it could cut emissions by up to 20% with LCAF.
The time is now for the industry to work with its fuel suppliers to demand and certify LCAF. In turn, the oil industry will respond by valuing its lower-carbon operations more highly and bringing in low-emissions technologies such as renewables and CCS. By solving the chicken-and-egg problem of matching low-carbon fuel demand and supply, the industry can buy crucial time—and escape some political heat.
By:
Robin M. Mills,
CEO of Qamar Energy and author of The Myth of the Oil Crisis
This article was first published in Aviation Week & Space Technology.
The views expressed are not necessarily shared by Aviation Week.
Stay current with Aviation Week Network's latest news, analysis and insights impacting the global aviation community.
Sign up for one or more of their sector-specific digests.