20 - 25 FEB 2024

Changi Exhibition Centre, Singapore
Home
Thailand completes upgrade of F-5 fighters
Thailand completes upgrade of F-5 fighters
INDUSTRY 360°
| 8 March
2023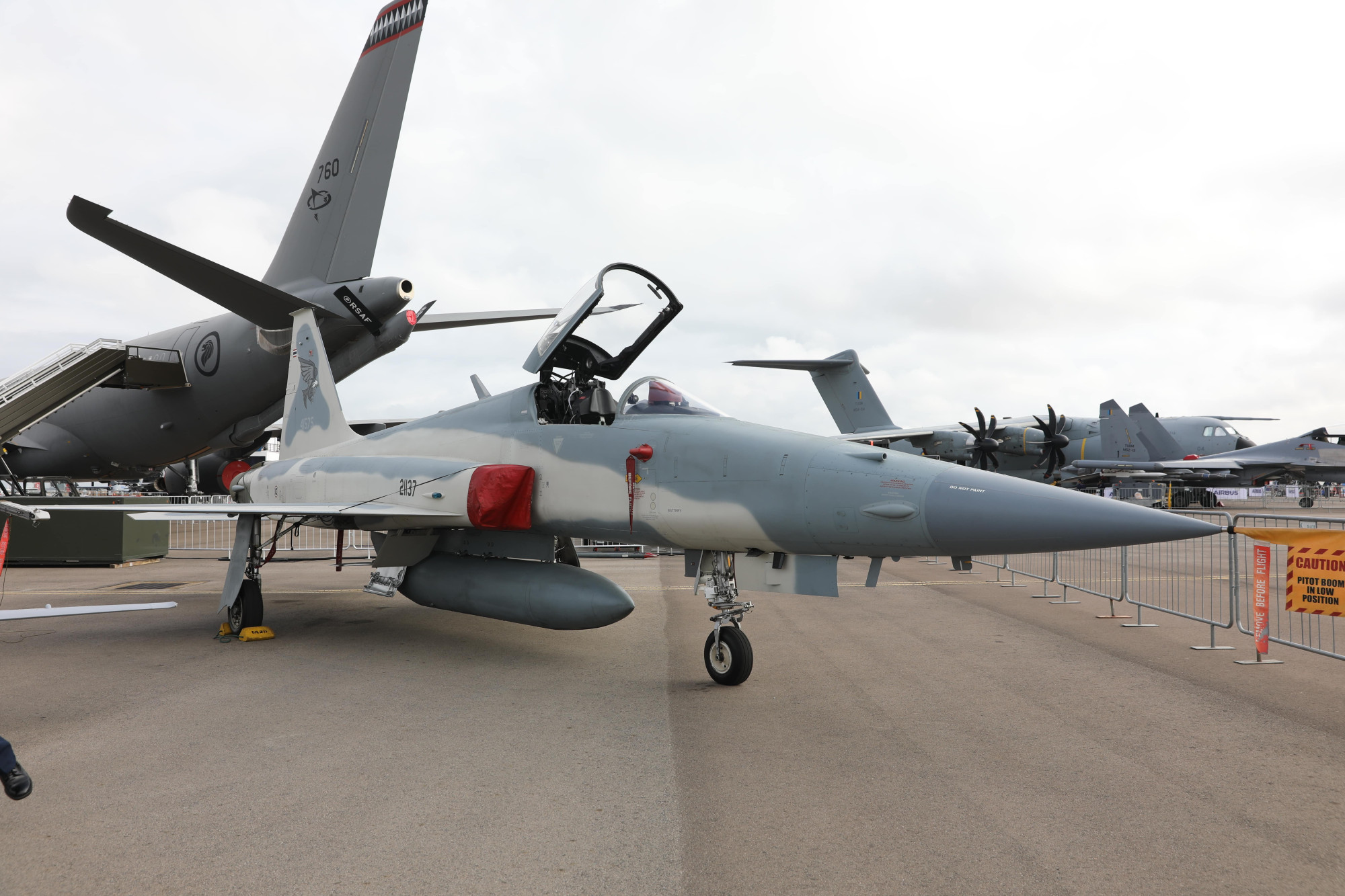 F-5 TH |
The Royal Thai Air Force has completed the upgrade of 14 Northrop F-5E/F Tiger II fighters. This one appeared at Singapore Airshow 2020.
The Royal Thai Air Force (RTAF) has completed two phases of its long-running programme to upgrade F-5E Tiger II single-seat and F-5F twin-seat fighters to F-5TH Super Tigris status. The occasion was marked by a ceremony at Ubon Ratchathani Air Base on 16 February.
In all, 14 F-5s of 211 Squadron, Wing 21 were modernised by Elbit Systems and local firms Thai Aviation Industries (TAI) and RV Connex. An example of both an F-5E and F-5F were displayed at the closing ceremony, indicating these were probably the final two aircraft to undergo the upgrade.
Phase one saw ten aircraft modernised, followed by four more under phase two.
This programme commenced in 2018, and represented the ageing fighters' third major upgrade since they reached the hands of the RTAF in 1978.
It was an important project to boost Thailand's aerospace industry, and was conducted under the auspices of a ten-year purchase and development contract between the three companies.
The first pair of F-5s was upgraded by Elbit Systems, but thereafter the remainder were done by Thai personnel. The first upgraded aircraft had been rolled out on 23 May 2018.
The programme adds the Elbit Systems DASH IV head-mounted display, and the ability to launch IRIS-T air-to-air missiles and Lizard 3 laser-guided bombs. Both these weapons were on display at the RTAF ceremony. Other additions are Litening III targeting pods, Sky Shield jamming pods, Python-4 and I-Derby air-to-air missiles.
Its new radar is the Elta Systems ELM-2032 multimode system. Cockpit avionics were revamped with a new mission computer, digital video and data recorder and two multifunction displays. An environmental control system and up-front control panel were also updated. Furthermore, AN/ARC-164 Have Quick II radios, EW system and a Link-T data link were fitted.
Structural improvements added 2,400 flight hours to reach a total of 9,600 hours per airframe too.
The RTAF lost one twin-seat F-5TH Super Tigris in a bird strike incident in December 2021. This means that 211 Squadron has only two twin-seaters left.
A third phase for the F-5 upgrade will entail Martin Baker supplying 15 of its Mk 16 ejection seats. This phase was announced by the RTAF on 21 September 2022. The figure of 15 seats indicates that 13 F-5THs remain – 11 single-seaters and a pair of twin-seaters.
The RTAF plans to continue operating the F-5TH until the end of the decade or slightly beyond. To replace them, the force is looking at other modern fighters such as the F-35 from the US.
By:
Gordon Arthur / Christchurch
Article | Shephard Media