20 - 25 FEB 2024

Changi Exhibition Centre, Singapore
Home
MRO regional projections for 2020
MRO regional projections for 2020
INDUSTRY 360°

| 23 DECEMBER 2019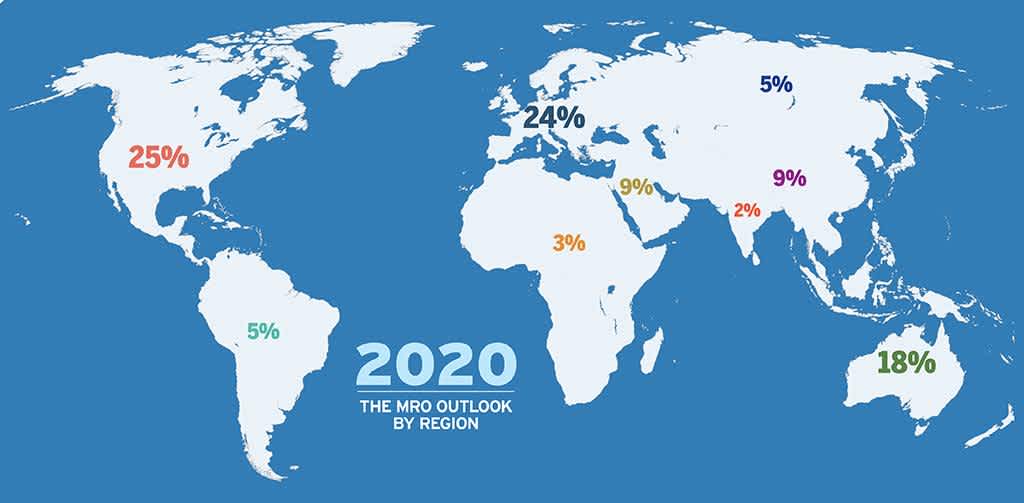 Photo credit:
Aviation Week
Given the problems with new aircraft and engine programs in 2019, the forecast for 2020 hinges partly on when those issues, including that of the Boeing 737 MAX, are resolved. As OEMs deal with technical problems, older aircraft are continuing to fly, so the number of aircraft being retired in 2020 is projected to be only 877, according to the Aviation Week 2020 Commercial Fleet & MRO Forecast. This means the strained supply chain will mostly still be problematic for used serviceable material for popular engine types such as the CFM56 and V2500.
At the same time, 2020 should see a record number of deliveries if Boeing resumes handovers of the MAX early in the year. But expect Airbus A320neos to lead regardless—which means CFM Leap 1B engines will lead the engine deliveries. The forecast projects that 2,743 aircraft will enter service, almost 500 more than the following year, when more aircraft will retire as those deliveries take place.
Looking at regional fleet growth rates over the 10-year forecast period, India leads with 10.6%, followed by the Middle East with 8.5% and Latin America with 5.7%.
However, North America still leads MRO demand in 2020, followed by Western Europe and the Asia-Pacific region (excluding China and India).