20 - 25 FEB 2024

Changi Exhibition Centre, Singapore
Home
What's Next@Singapore Airshow scales new heights at Singapore Airshow 2024
27 Jul 2023
What's Next@Singapore Airshow scales new heights at Singapore Airshow 2024
SHOW NEWS | 25 JULY 2023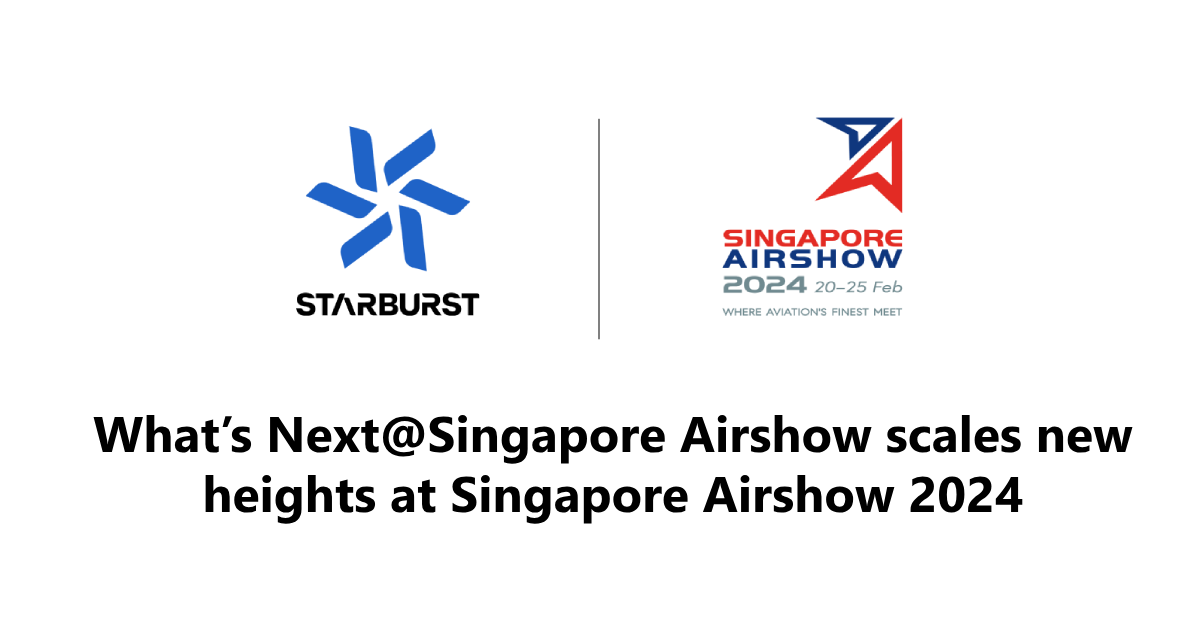 Singapore Airshow is thrilled to announce its Innovation partnership with Starburst, the world's first and only global aerospace and defence start-up accelerator and strategic advisory practice, to operate accelerator programmes for start-up companies at its next edition of What's Next@Singapore Airshow 2024 that will be held in Singapore from 20 – 25 Feb 2024.
What's Next@Singapore Airshow is aimed at showcasing the revolutionary technologies of start-ups to potential investors, accelerators and corporate partners. The Innovation partnership at What's Next@Singapore Airshow 2024 will focus on sustainability, dual use technologies, supply chain and digitalisation in aerospace and defence industries. More specifically, participants at What's Next@Singapore Airshow 2024 will be guided under an accelerated journey that includes establishing a presence in Singapore, guidance in partnerships, fundraising, joint development, and even initial public offerings.
"Over the course of history and economic development, we have seen how disruption completely transformed industries and businesses. Singapore Airshow is committed to facilitating the continual transformation of the aerospace and defence industries. With Starburst's expertise in identifying and grooming start-ups, this Innovation partnership will take What's Next@Singapore Airshow to new heights," said Leck Chet Lam, Managing Director of Experia, organiser of Singapore Airshow 2024.
"We are thrilled to announce our partnership with the Singapore Airshow 2024. This partnership signifies our commitment to supporting innovation and sustainability in the the aerospace and defense industry. As an organisation with extensive expertise in aerospace and defence, we understand the importance of driving technological advancements that can benefit dual use applications in both defence and commercial sectors. Our partnership with Singapore Airshow will allow us to showcase cutting-edge solutions that have practical applications in aviation, aerospace, and defence, thereby contributing to the growth and development of the Asia Pacific ecosystem. We look forward to an enriching experience at the Singapore Airshow 2024, where we will not only connect with visionary entrepreneurs but also engage with key stakeholders and decision-makers. Together, we can build a brighter and more sustainable future for the aerospace and defence sectors, creating lasting benefits for all involved," said Ms Sheila Leung, Programme Director, Starburst.
--------------------------------------------------------------------------------------------------------------------
For more information on What's Next@Singapore Airshow, visit the
programme page
.