20 - 25 FEB 2024

Changi Exhibition Centre, Singapore
Home
Is an automated Rent-A-Factory the future of aerospace manufacturing?
Is an automated Rent-A-Factory the future of aerospace manufacturing?
INDUSTRY 360°
| 26 APRIL
2022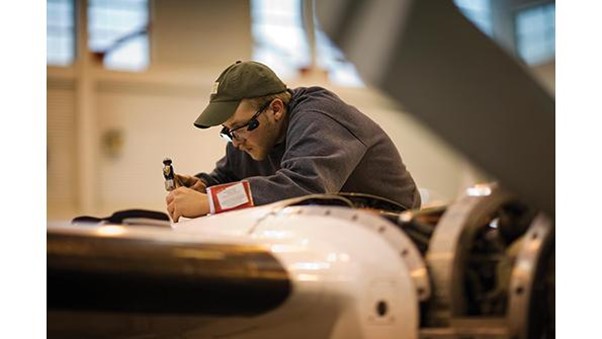 Photo credit: Cavan Images/Alamy
More than three million U.S. workers retired early due to the outbreak of COVID-19, according to a U.S. Federal Reserve analysis published last year.
In a parallel development, space industry leaders fear a looming labor shortfall could slow the ongoing manufacturing boom, according to the newly released first-quarter 2022 issue of The Space Report. In commercial aviation manufacturing, industry advisors continue to expect that as many as a fifth of Tier 3 and mom-and-pop shops could exit the sector by the end of this era of consolidation, according to Aviation Week inquiries.
A chorus of complaints is growing louder from flight lines, maintenance, repair and overhaul shops, and factory floors over the difficulty in sourcing enough talent. While the need for more science, technology, engineering and math professionals intensified when Facebook, Google and Amazon started luring away candidates more than a decade ago, managers increasingly say they are missing skilled workers as much or more.
The worker shortfall persists despite robust industry forecasts for making everything from business aircraft to spacecraft and new types of electric and vertical-takeoff-and-landing vehicles. Maybe it was only a matter of time before someone realized that a dearth of manufacturing workers and an explosion of expected manufacturing products meant a business opportunity, but front-runners stand out for seizing the initiative. Witness the rise of Hadrian Automation, a two-year-old startup near Los Angeles that is backed by aerospace-savvy Lux Capital and legendary Silicon Valley investor Andreessen Horowitz, among others.
The startup's vision is a highly automated, replicable rent-a-factory for flight-grade parts that can be staffed by workers who can be more experienced operating a coffeeshop brewing apparatus than a five-axis milling machine.
Hadrian says it wants to make parts for rocket, satellite, jet, electric vertical-takeoff-and-landing vehicle, medical device, semiconductor, defense and carbon-removal tech manufacturers. The startup says its planned factories will be able to provide most metal parts up to 10 times faster and at half the cost of legacy suppliers. It eyes a 2023 countrywide expansion.
Those plans follow an influx of new funding. On March 31, Hadrian announced it had raised $90 million in Series A and A-Prime rounds from Lux, Andreessen, Lachy Groom, Caffeinated Capital, Founders Fund, Construct Capital and 137 Ventures. The company has now raised almost $100 million in total, according to Crunchbase.
Those investors see real problems to solve. "The defense industrial base is served by a network of thousands of small machine shops across the country, often run by very talented machinists who have spent a lifetime honing their craft," says Katherine Boyle, a general partner at Andreessen. "The average age of a lead machinist in America is now hovering around the mid-50s, and like other skilled trades, the coming retirement of the boomers is leading to a dangerous labor shortage in an important industry. Beyond even the lack of skilled labor to make critical parts, there's the thorny question of security and supply chain transparency, which our commercial aerospace industry is desperate to see fixed as it grows in scale and importance."
Hadrian was started by CEO Chris Power after he walked away from a previous startup that sought to partner with mom-and-pop shops to help finance adoption of advanced manufacturing technology, Boyle says. But Power ditched that after accepting a "hard truth" that financial engineering would not solve the core problem of making aerospace and defense parts faster and cheaper.
Over the past year, Hadrian stood up a model shop in Hawthorne, California, growing to 40 from six employees. It plans to expand to more than 100 employees this year, with the expected opening of a second factory in nearby Torrance that is five times as large. The startup will look to include steel, titanium and Inconel alloys in its processes beyond aluminum.
Above all, Power says his company can generate factory workers "with zero machining experience to produce spaceflight-grade hardware with less than 60 days of training." That hands-on experience for the masses not only meets the business demand, but it can serve a social good as well. "Giving young men and women the opportunity to build meaningful skills and take pride in building new things is one of the most important missions technologists can build for," Boyle says.
On LinkedIn, Sierra Space CEO Tom Vice commented he would like to meet Power. "We are always looking for great
supply chain partners," Vice says.
This article was first published in Aviation Week & Space Technology.
Stay current with Aviation Week Network's latest news, analysis and insights impacting the global aviation community.
Sign up for one or more of their sector-specific digests.