20 - 25 FEB 2024

Changi Exhibition Centre, Singapore
Home
Japan flies first production-series UH-2 helicopter
Japan flies first production-series UH-2 helicopter
INDUSTRY 360°
| 30 MAY
2022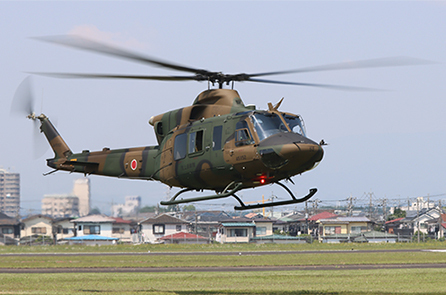 JGSDF UH-2 | Japan has flown a production version of the UH-2 utility helicopter for the JGSDF for the very first time. (Subaru Corporation)
On 19 May, the first serial production UH-2 helicopter destined for the Japan Ground Self-Defense Force (JGSDF) achieved its maiden flight.
Subaru Corporation announced the milestone in a press release the following day, revealing that the 30min hovering flight with a Subaru test pilot at the controls occurred at the company's production facility in Utsunomiya City, Tochigi Prefecture, north of Tokyo.
Subaru stated that various in-house flight tests on the twin-engine UH-2 aircraft would continue before the first UH-2s are delivered to the JGSDF.
The UH-2 is a Japanese militarised version of Bell's civilian 412EPX, with the two OEMs cooperating on this particular programme.
The Acquisition, Technology & Logistics Agency in Japan had announced on 24 June 2021 that development of the UH-2 (formerly referred to as the UH-X) was complete, after the project kicked off in FY2015.
The UH-X's maiden flight occurred in December 2018, and since 6 March 2019 the Japanese MoD had been testing the helicopter. It will replace the ubiquitous UH-1J within the JGSDF.
Subaru received a JPY14.3 billion ($131.6 million) contract for the first six aircraft in March 2020. These aircraft, with four rotor blades compared to the UH-1J's two, should all be finished by January 2023.
Subaru Corporation plans to deliver another seven UH-2s in FY2023, and 13 in FY2025 as production ramps up.
The overall JGSDF requirement is for some 150 UH-2 helicopters over the next two decades, these due to replace approximately 120 remaining UH-1J aircraft.
By:
Gordon Arthur / Christchurch
Article | Shephard Media